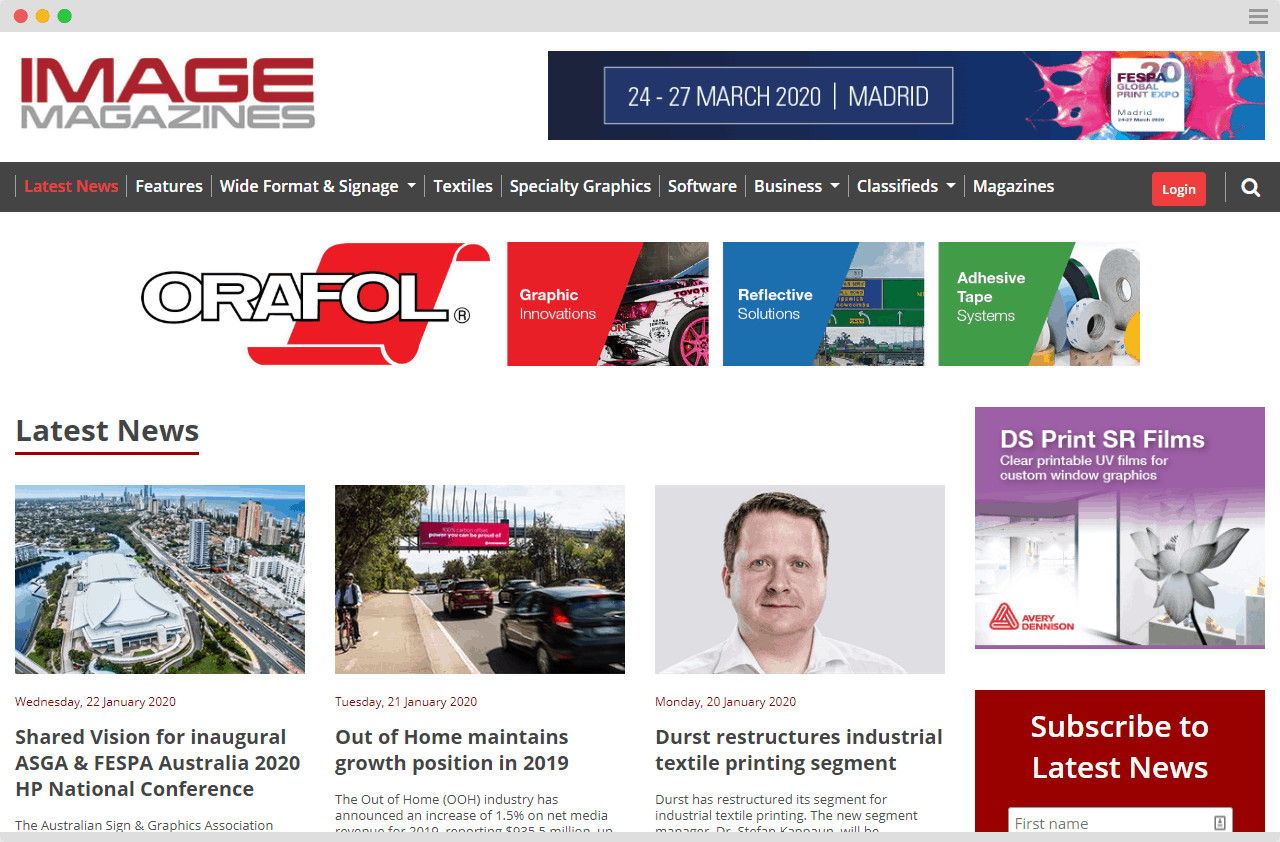 Image Magazines run digital publishing websites in Australia and New Zealand. Their magazines and online websites discuss topics on signage, wide format, textile and specialty graphic display businesses.
They approached Intuitive IT to build both the .com.au and co.nz websites which have the following features.
Classifieds section so members of the industry can sell their equipment
Online Payments - accepting online payments for purchasing classifieds
Ads management - To automatically launch and expire ads for site advertisers
Responsive design - So the website will work on any device
Membership form - Make it easy to accept and process membership form applications
Email newsletters - Integration to newsletter services to manage subscribers and send bulk emails
Blog/news article management - The key feature of a digital publishing website. Blog and news article management that can share articles across the two sites.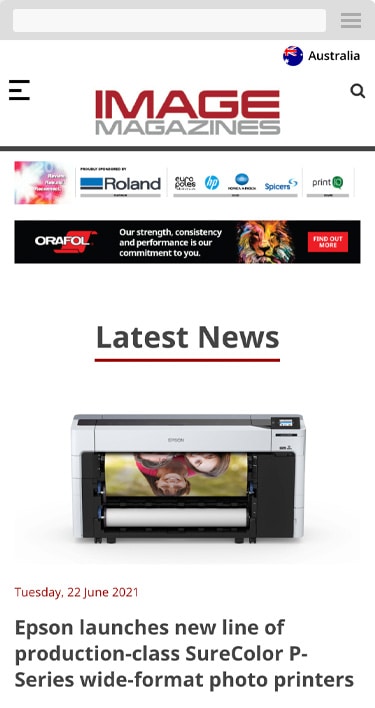 Intuitive IT has the ability to work within constraints and model with ease, as shown by our web design for a 3rd party company. As we worked closely together on this project, they were able to provide us information that helped make sure it was designed well across all platforms- mobile tablets and desktops alike!
For a digital publishing website, the single-column layout was key to ensuring that each blog post was easily readable.
One challenge we had to overcome was ensuring that advertisements appeared in prominent positions on both desktop and mobile devices.
Online payment form using Stripe
The online payments system was integrated into Stripe.
Stripe is a great payment system.
Stripe's software and APIs revolutionized the way businesses accept payments.
Stripe is a company that makes it easier for small to large companies to take payments online. Stripe has an excellent reputation because of its high-security standards, reliable service, ease of use and low fees making them a perfect alternative option for any business on the market today.
Setup and approval are very easy when compared with other providers.
Intuitive IT managed the entire process from application to integration of the payments into Stripe.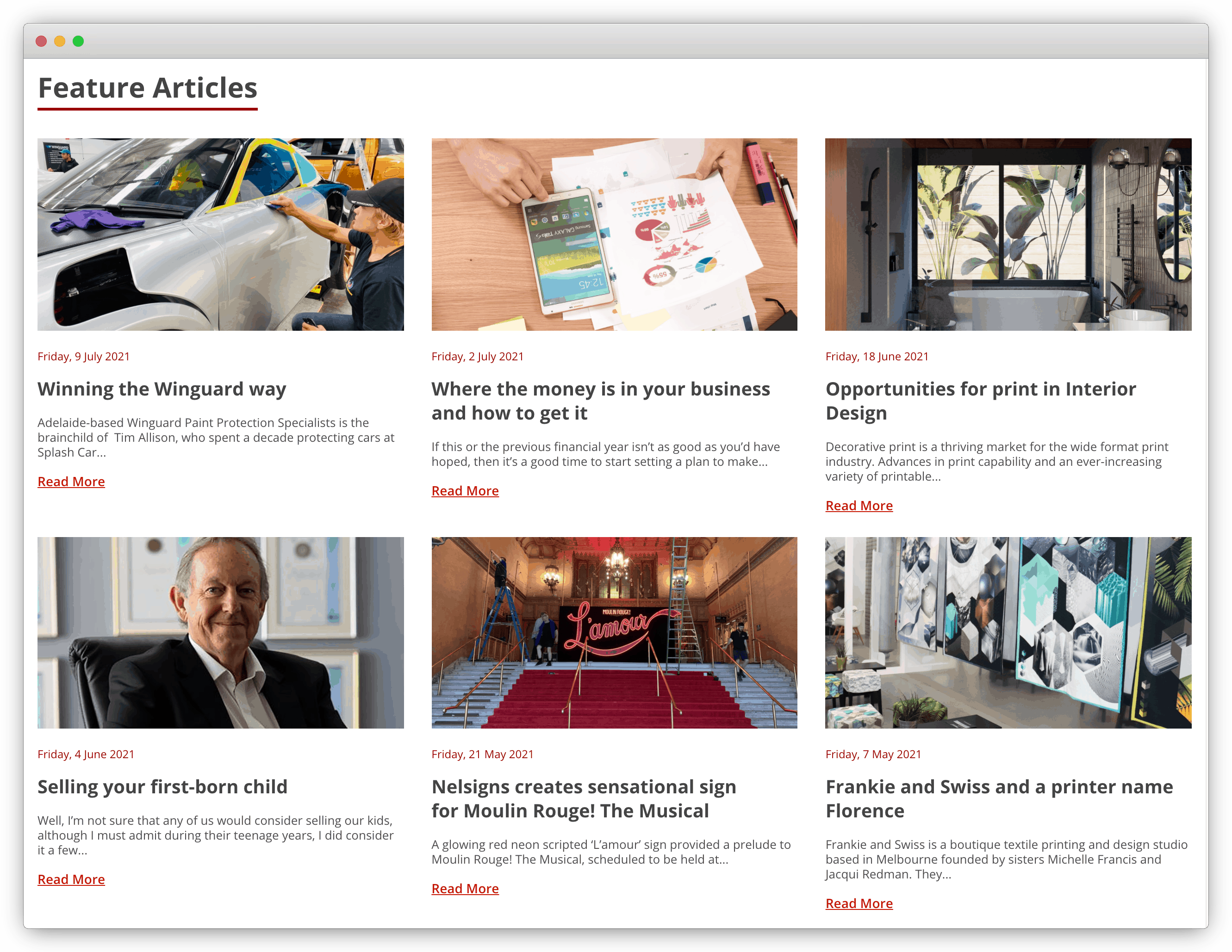 Using the EasyDNN News Article module, Intuitive IT built the blogs/news section for Image Magazines.
The module allows for multiple views of the articles. From list views to the article page itself, Intuitive IT built the site to the specifications of designs provided.
In addition to visuals of the news section, Intuitive IT set up the taxonomy of the tags and categories so visitors could easily find their way to the relevant articles.
We also ensured that we make life easy for the site administrators by ensuring that articles can be added to both sites or only one.
Need a website for digital publishing?
Intuitive IT can help