A responsive website built in DNN for passionate Dylan fan
The Bob Dylan project is the love child of Dylan fan David Freeman. His love and passion for Dylan are matched only by his vision for this site. David's dream was to compile a jukebox of Dylan originals and covers.
To account for the wide-ranging streaming services and relationships between songs, albums and artists, extensive work was put into the database design. The initial planning and design was completed by David himself as he lent on his previous experience as a developer. Then Intuitive IT refined it to fit the DNN module model.
A true work of love, it was a pleasure to build and maintain this site for an international audience.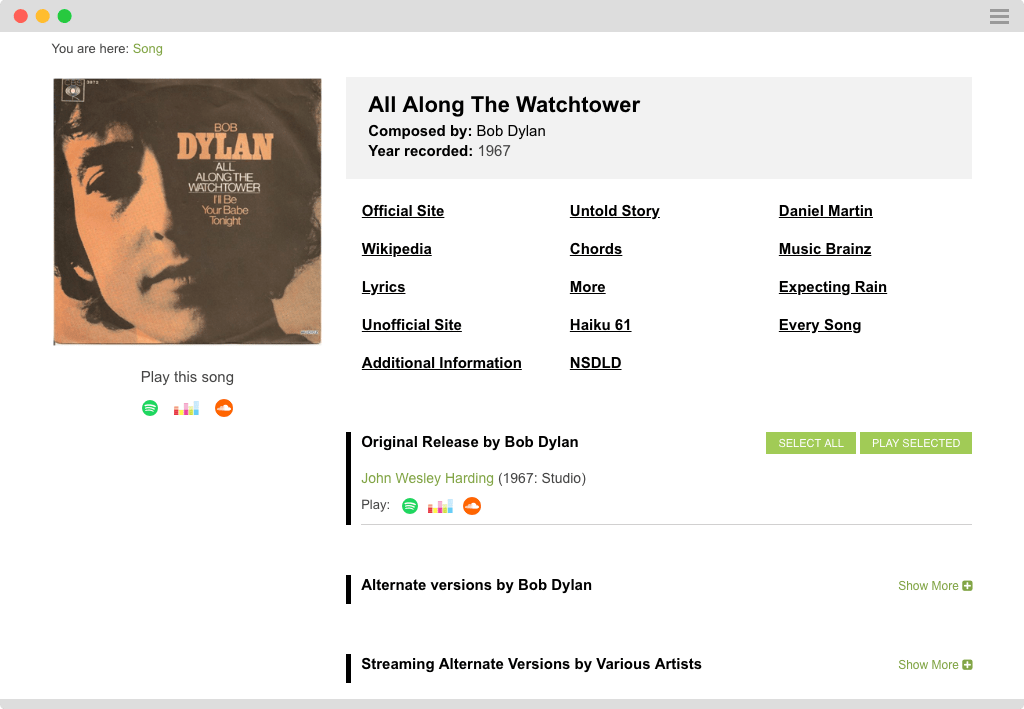 Sitting at the heart of this website is the songs and albums model. The albums form the basis of the collections. Drilling into the songs you'll see the full wealth of information added by David. Links to external sites including Wikipedia articles, chords and lyrics.
You can also find the original album release, alternative versions performed by Dylan and other artists take on his songs. They may be well known performers or fan videos on Youtube.
Best of all, you can stream the songs directly from the site using your favourite streaming service.
An innovative addition to the site, the streaming radio queues and streams from the entire collection of music curated with the Bob Dylan Project.
With over 4,000 songs curated, you're likely to hear a version of a Dylan classic you haven't heard before.
To help David maintain this impressive collection of artists and songs, Intuitive IT built an administrative interface for him.
The easy to use, and dare I say intutive UI gives David the ability to quickly add new information and keep existing songs, artists and albums up to date when new versions are released.
It has grown over time to give David more functionality and create new links between all the components.
Do you have a passion-project?
We can help bring it to life and share it with the world.